Regular price
$69.99 USD
Sale price
$39.99 USD
Unit price
per
Sale
Sold out
Share
$3 OFF! ENDS SOON!

Enter this Code at Checkout: Yieryi
FAST & FREE SHIPPING

We offer free shipping, directly to your door. Delivery takes 5-7 business days.
View full details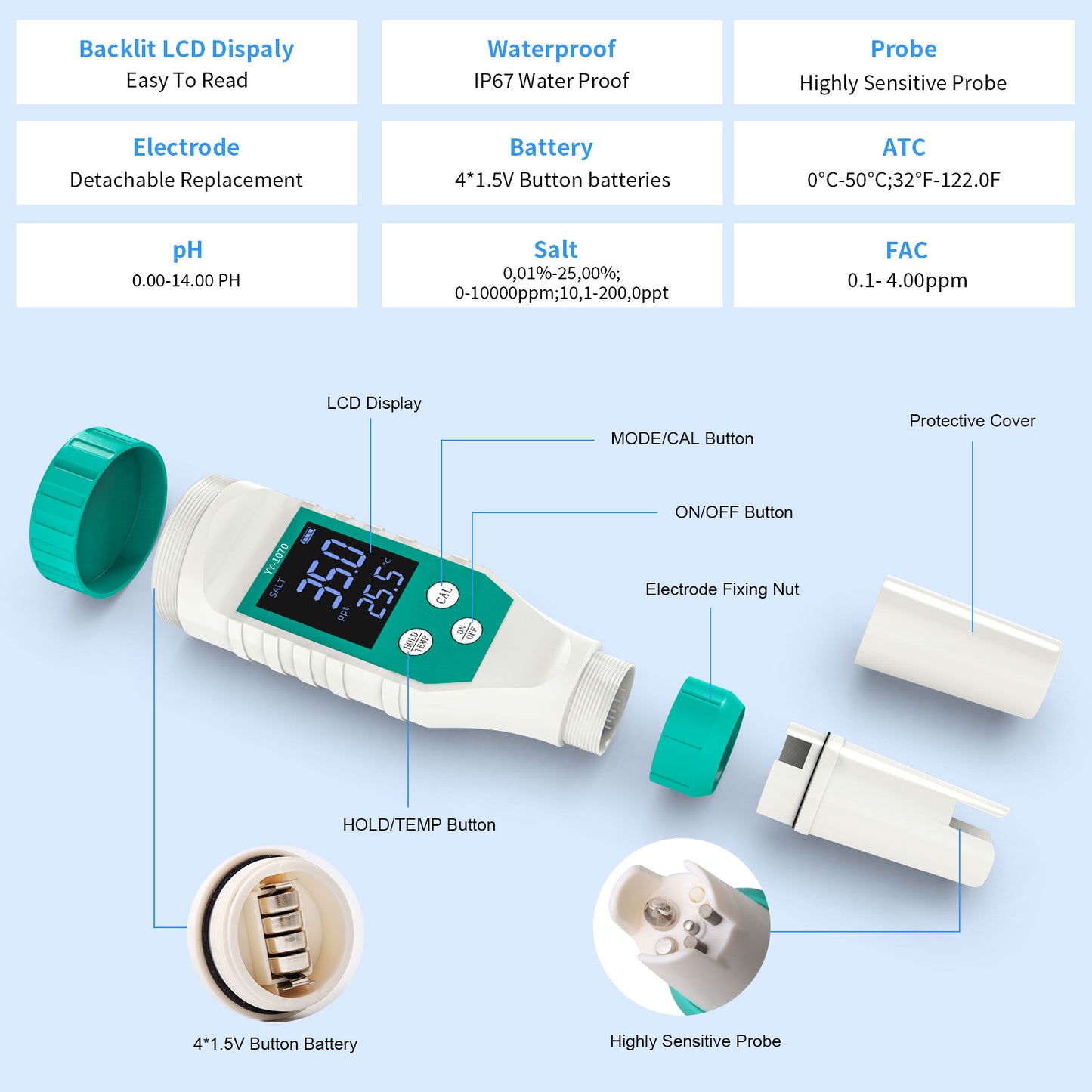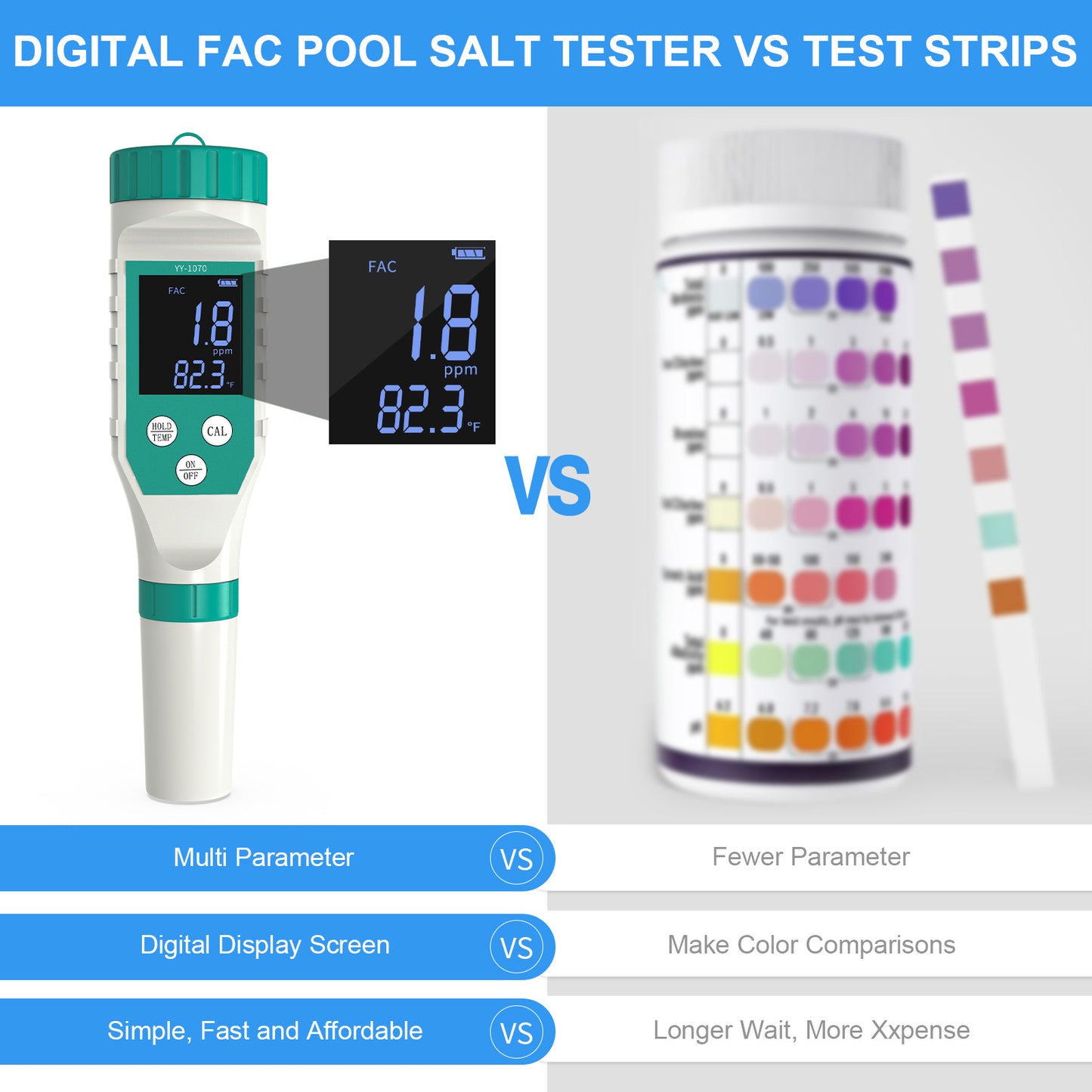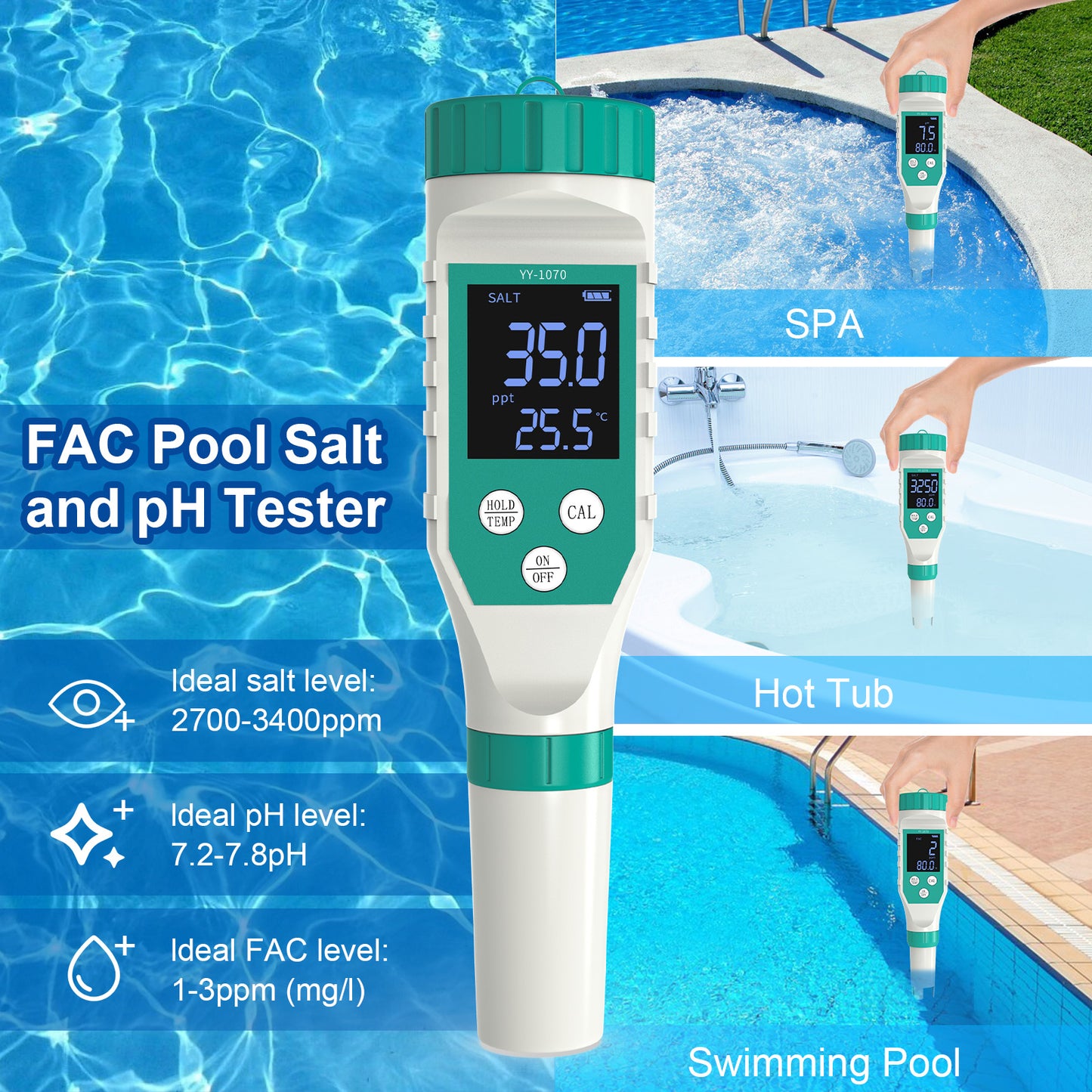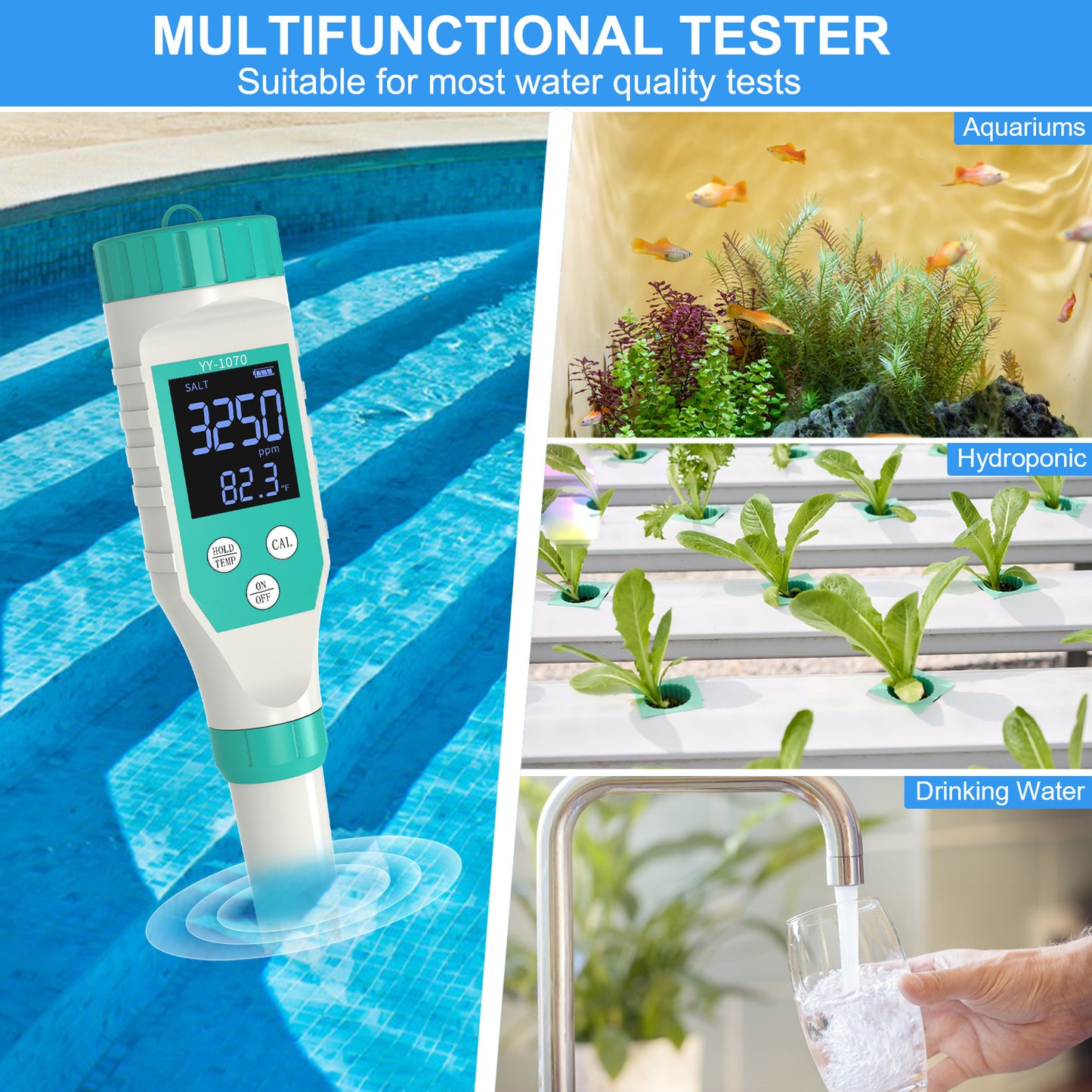 $5 OFF! ENDS SOON!
Enter this Code at Checkout: WY4Z9MAB0ZRN
✔️Free Chlorine Tester for Pool - The Digital Chlorine Tester can quickly help you monitor the concentration of free chlorine ions in your swimming pool. For most pools, the free chlorine concentration range is usually between 1-3 ppm. This effectively purifies the water while keeping it clear and transparent, making the pool look more appealing and swimmers able to enjoy a healthy and pleasant swimming experience.
✔️Salt Tester for Saltwater Pool - Salinity meter can help check the salt level (Ideal level: 2700-3400 ppm) of the saltwater pool and hot tub with salt chlorinator system. Help the salt chlorinator work more efficiently in the appropriate salinity value.The salt meter can help you keep your pool clean and avoid the negative effects of too much or too little salt on your body and pool equipment.
✔️pH Level Tester for Pool- pH: 0.00~14.00; ph pool tester can help check the pH level of pool. Maintaining the proper pH level is critical to the operation and maintenance of saltwater pools. Typically, the ideal pH range is between 7.2 and 7.8. Regular pH testing and adjustment can help ensure clean water, comfortable swimming, and protect pool equipment from damage.
✔️Pool Chlorine Tester VS Pool Test Strips - When testing with test strips, you have to guess the value of your pool based on the color of the strips; however, free chlorine meter are simpler, more accurate, and friendlier to color-insensitive users than test strips. Simply place it in the water for a few seconds to get an accurate reading, plus, using enough test strips adds to the cost in the long run.
✔️ Easy to Use TDS Water Tester - The 7-in-1 ORP Meter accurately measures FAC, pH, SALT, EC, TDS, ORP and TEMP values. Backlit design allows measurements in dimly lit environments. Pocket size design to help you measure inground pool, spa, thermal pool and jacuzzi anytime, anywhere. Have you been struggling to find a saltwater pool tester that is both accurate and easy to use?Multifunctional pH EC meter will tell you the answer.
✔️ This 7 in 1 highly accurate digital pool water tester ph and chlorine can be used in following applications,drinking water quality test, swimming pools quality monitor, PH balance measurement in RO/DI system, saltwater aquarium, koi fish pond, spa, hot tub or hydroponics.
New Update 7 in 1 Free Chlorinefor Pool Aquarium Hydroponics Drinking Water
7 in 1 pH FAC SALT ORP EC TDS TEMP TESTER

The upgraded free Chlorine Tester helps you to know the free chlorine value of your pool at any time, providing you with a healthy swimming environment. This is a great value-for-money water test pen.

Accurate Chlorine and ORP Meter for Pools
Check FAC, ORP, pH, and SALT of swimming pools
Maintain your swimming pool pH: 7.2~7.8pH, ORP: 650~750mV, FAC: 1~3ppm, SALT: 2700-3400 ppm and you will get the best performance and clean water. This range is also more acceptable to the body and the salt chlorinator works more efficiently.
YY-1070 Multi-function FAC pH tester is a good choice for home and outdoor pools. With digital backlight display function, with high precision electrode head display is more accurate. This means you can easily measure multiple parameters with a single device without having to use multiple testers.
Check pH Level

Test Salt Level

Saltwater Tank Meter

Test pH EC for Hydroponic

TDS Tester for Water

Product Features About Yewhick 7 in 1 Chlorine Merer

FAC pH and Salinity Digital Tester