Regular price
$79.99 USD
Sale price
$40.99 USD
Unit price
per
Sale
Sold out
Share
$3 OFF! ENDS SOON!

Enter this Code at Checkout: Yieryi
FAST & FREE SHIPPING

We offer free shipping, directly to your door. Delivery takes 5-7 business days.
View full details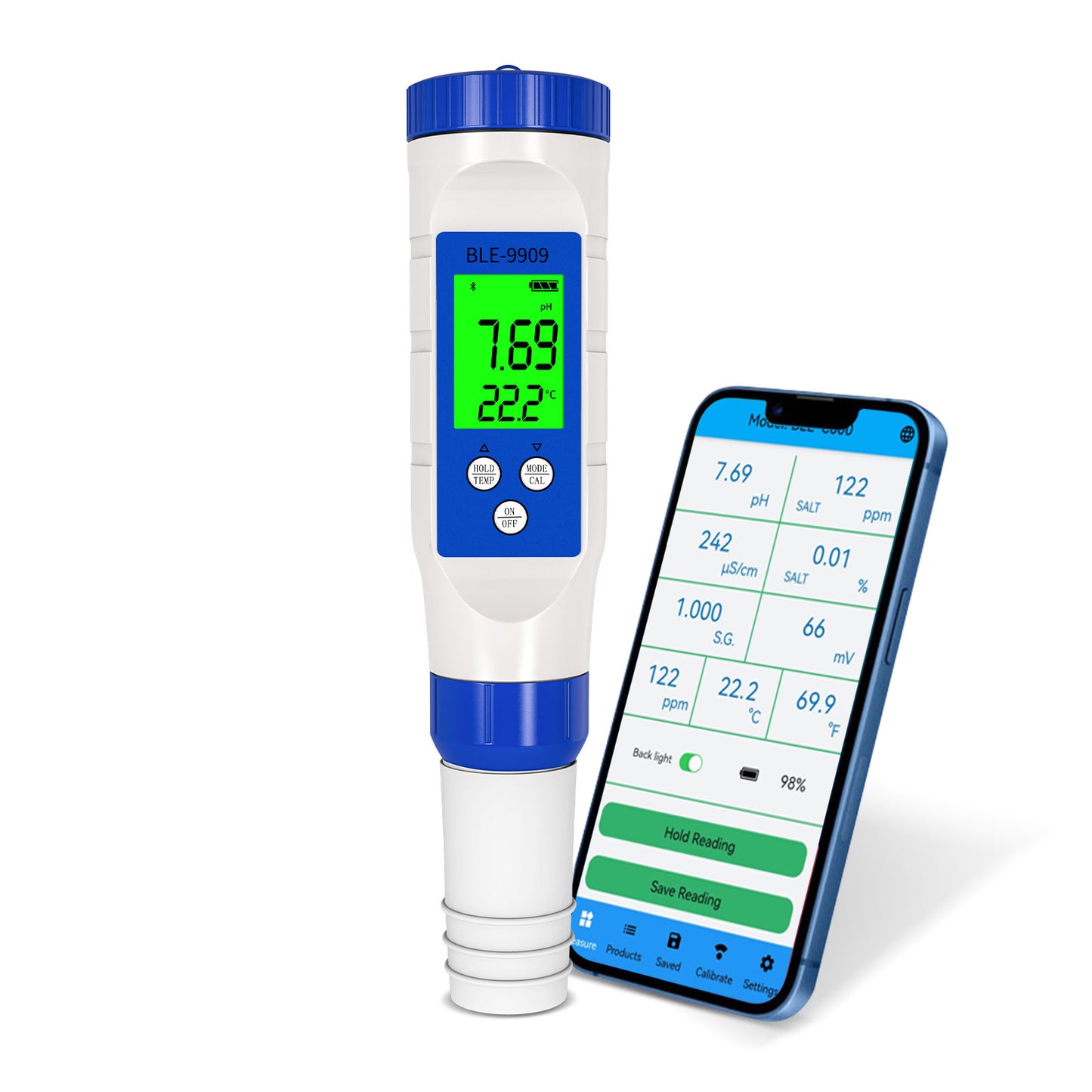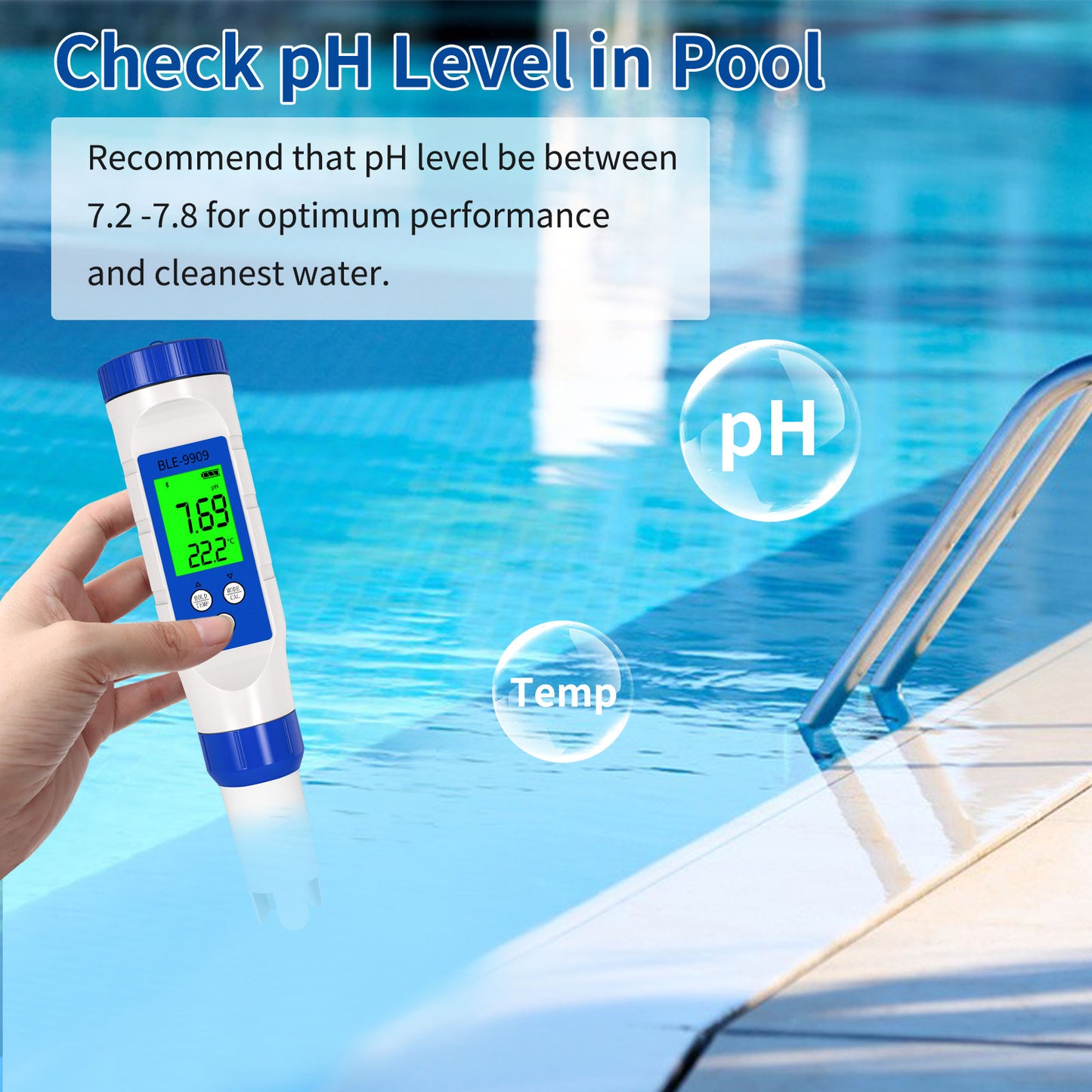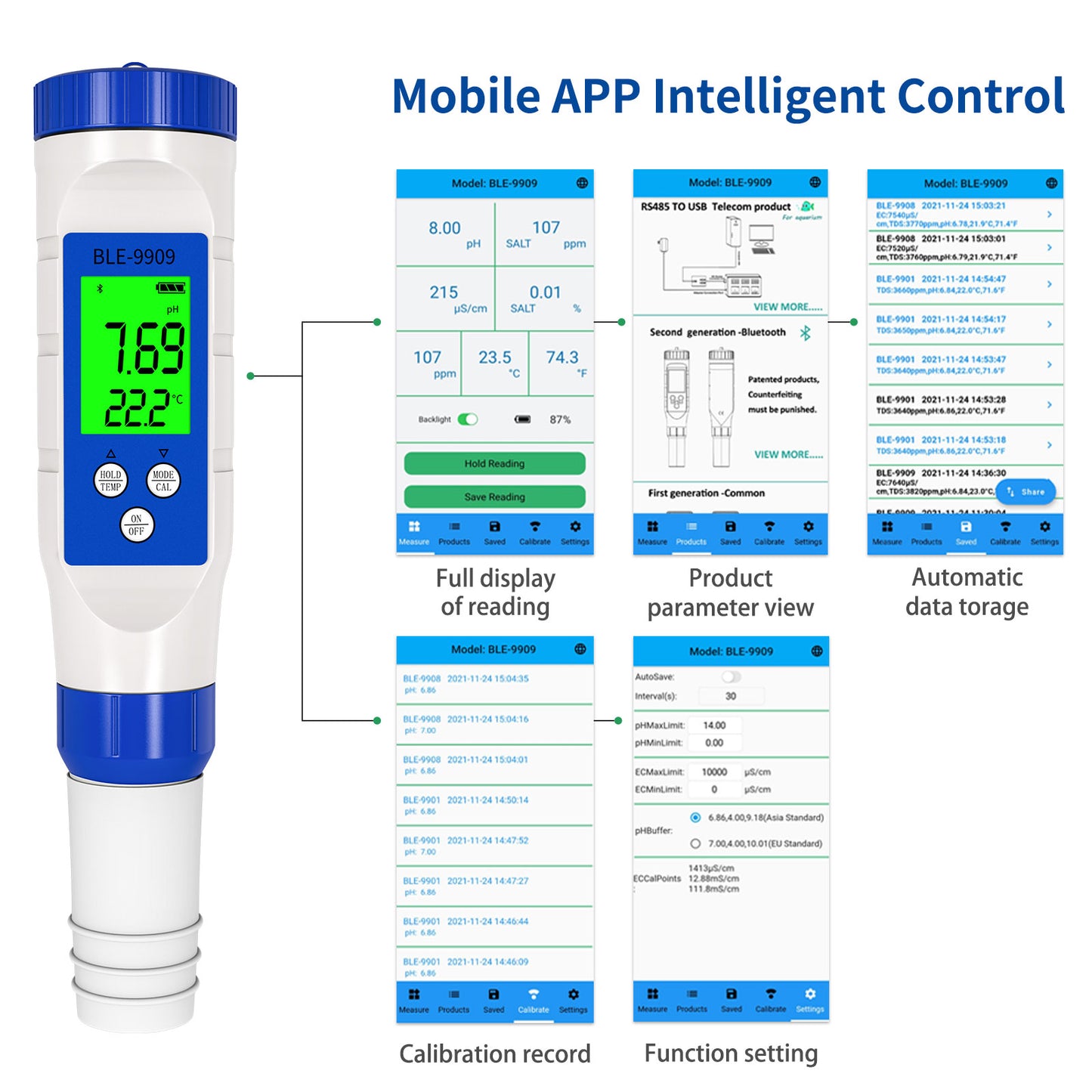 $5 OFF! ENDS SOON!
Enter this Code at Checkout: WY4Z9MAB0ZRN
✔️Test check the salt content of the pool - salt content meter salt range: 0~999ppm/1000~9990ppm/10.1~150.0ppt; Check the salt concentration of salt water pool and hot tub that use salt chlorine generator; Help the salt chlorinator work more efficiently in the appropriate salt content value. The recommended salt concentration is between 2700 and 3400 ppm.
✔️Test check the pH value of the pool - pH value meter pH: 0.00~14.00; Accuracy: ±0.05; Recommended pH between 7.2 and 7.8 depending on the type of pool (fiberglass, vinyl and tile pools). If the pH is within the range, you will get optimal performance and clean water. This pH range is also more acceptable to the human body and chlorine has the highest bactericidal effect.
✔️pH Meter with Bluetooth - Cloud-based data management system, Accurate real-time Bluetooth data transmission and clear readings make it easy for you to store, manage and share test data without worrying about data loss. Digital pH meter fully customizable parameter settings. It can be used as a classic ph tester even when not connected to a smartphone.
✔️Digitaler Tester VS.Test Strips - Self-Calibrating Digital pH Tester with High Sensitivity Glass Probe You simply dip the tester into the pool water and the LCD display shows a complete reading within seconds. With test strips, you have to guess the pool value based on the color of the test strip; and in the long run, frequent use of test strips can lead to high costs.
✔️Unser Service -5-In-1 salinity TDS EC temperature pH meter is committed to high quality services guaranteed. Electrodes are replaceable, with a 6-month warranty interval for non-human damage.If you are not satisfied with our pH tester, please contact us by email and we will provide you with a satisfactory response within 12 hours.
YIERYI 5 in 1 Bluetooth PH SALT TDS EC TEMP for Swimming Pools  Hydroponics
Product Features of YIERYI pH EC TDS Salt Temp Teste
Multifunctional pH Tester
This versatile tester is designed to meet your needs for a comprehensive water quality assessment. This means that you can easily measure multiple parameters with a single device without having to use multiple testers.
Good assistant salinity meter for swimming pool water test
Check pH value in swimming pool
Swimming pool pH: 7.2~7.8
If the pH is within the range, you will get optimal performance and clean water. This pH range is also more acceptable for human body and chlorine has the highest bacteria killing effect.

Digital salinity meter for salt water pools and salt water spas
What you need to know about salinity value for salt water pool and spa ?
1. For salt water pools, Generally, a salt concentration between 2700 ~ 3400 ppm is appropriate. A salt concentration in this range allows the salinity of the pool water to be close to the physiological salinity of the human body, and also effectively prevents the growth of bacteria and other microorganisms.
2. For salt water hot tubs, The salt concentration is usually between 1900 ~ 3000 ppm, which can boost the metabolism of human skin, improve blood circulation, eliminate fatigue and reduce stress, etc. At the same time, adequate salt concentration can help kill bacteria and microorganisms and improve the purity of water.

pH EC Meter for Hydroponics
Ideal pH and EC values for most plants.
A standard temperature for hydroponic water is 72.0 ~ 75.0°F, pH should be between 5.5 ~ 6.0, with EC of 1.2 ~ 2.0mS/cm.

pH TD Meter for Water Quality Testing
What water is healthy for the body ?
In general, the water should have a TDS value (Total Dissolved Solids) between 150 ~ 500 ppm and a pH value between 6.5 ~ 8.5. This is because water in this range contains the right amount of minerals and trace elements to provide the body with the nutrients it needs, while water with a moderate pH has no negative effects on the body.

How to calibrate the PH meter ?
Very easy to calibrate
1. Two calibration modes: 6.86/4.00/9.18 and 7.00/4.00/10.01 can be selected to dissolve the selected powders in different cups of 250ml distilled water. then stir until the powder is completely dissolved.
2. Place the electrode into the 6.86 solutions, wait for the value to stabilize, and press "CAL" for 5 seconds, after which "CAL" will be displayed on the screen.
3. Repeat the above steps if you need to calibrate pH 4.00 or pH 9.18.
4. If you need to calibrate pH 7.00 or pH 10.01, switch the pH buffer to EU Standard mode.
5. Place the electrode in the 7.00 solutions or 10.01 solutions, wait for the value to stabilize, and press "CAL" for 5 seconds, which will display "CAL" on the screen.